SINGAPORE AIRPORT (SIN) INFORMATION
Origin
Airline
Flight no.
Scheduled
Est./Actual
Status
No flight arrivals were found at Singapore Airport.
Destination
Airline
Flight no.
Scheduled
Est./Actual
Status
No flight departures were found at Singapore Airport.
Car Hire at Singapore Airport
UNBEATABLE VALUE CAR RENTAL
Free Amendments | Free Cancellations | No Card Fees




Singapore Airport - All Information on Singapore Changi Airport (SIN) Singapore Airport
Airport Blvd, Singapore
phone +65 6595 6868
phone+65 6595 6868 (Lost + Found)
emailenquiry@changiairport.com
emailenquiry@changiairport.com (Lost+Found)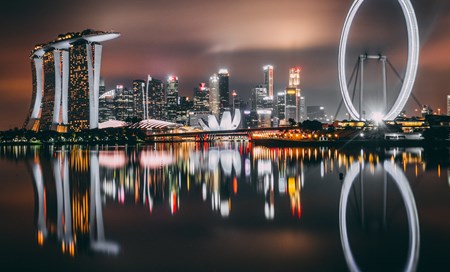 Singapore Changi Airport is conveniently located between the Tanah Merah and Changi Golf Clubs, the Serangoon Harbour and Pasir Ris Park. Serving more than 200 worldwide destinations, the airport handles more than 7,200 departures and arrivals per week and is home to more than 100 airlines.
Inside the airport there are Skytrains and travelators connecting the three main passenger terminals and helping passengers to get around the complex. The Skytrain services are free and take no more than one to four minutes to travel between the terminal buildings. Operating between 5.00 am and 2.30 am the following morning, Skytrain's services are supplemented by shuttle buses which transfer passengers between the terminals, when Skytrains are not available.
Arrivals, Departures and Airlines at Singapore Airport
At Terminal 1 passengers can pick up Skytrain services in the departure check-in hall on level 2, door 5. In Terminal 2 Skytrain services can be found in the departure check-in hall level 2, door 1 and at Terminal 3 passengers should head for the departure check-in hall on level 2 and use door 8.
Singapore Airport also has a fourth terminal which is for the exclusive use of budget airlines. The Budget Terminal is connected to Terminal 2 via a 24-hour, free shuttle bus service, which can be picked up from the Terminal 2 basement, near the bay where public bus service 36 has its bus stop. These shuttle buses run every 10 minutes between 5.00 am and 2.00 and every 20 minutes between the hours of 2.00 am and 5.00 am.
Transfer Services at Singapore Airport
Car rental service providers can be found in the Arrivals Halls Changi Airport in Terminals 1, 2 and 3, where car rental suppliers such as Avis and Hertz have their rental counters. The counters are open from 7.00 am to 11.00 pm every day.
Hotels near Singapore Airport
There are a number of hotels to suit all budgets and requirements at or near Singapore Airport.
Parking at Singapore Airport
See options for parking services at Singapore Airport.
Additional Services and Amenities at Singapore Airport
At Singapore Airport you will find the usual array of bars and restaurants, airport lounges and shops.
Inside the Changi Airport terminals passengers will find plenty of excellent shopping and dining facilities. From Halal to vegetarian meals, from Lacoste fashion to Singapore souvenirs, there's something for everybody on offer.
Business travelers will find internet and business services at Changi Airport are located in Business Centers, where desk top PCs, 24 hour photocopying, faxing, typing and mailing services are available. Dotted around the airport complex are some 550 internet kiosks, where passengers can use the WiFi internet connections for free. WiFi is also freely available via the Wireless@SG network in the terminal buildings.
Families travelling with kids are not overlooked either at Singapore Airport! The Changi Aviation Gallery and Children's Playground areas ensure that little travelers won't get bored, while waiting for their boarding to commence. The Changi Aviation Gallery is a multi-sensory gallery with wonderful interactive displays that teach children about the planes they can see and what happens at an airport in general.
The airport offers a variety of early check-in facilities throughout the passenger terminals. The location of the early check-in desks depends on which airlines passengers fly with, but it is possibly to check online at www.changiairport.com where one should go for early check-in.
Passengers should note that the airport operates a Cash Reporting scheme to combat international money laundering and crime. All travelers entering or leaving Singapore must report on how much cash they are carrying – regardless of the currency or bearer negotiable notes – if the amount exceeds Singapore Dollars 30,000 in any currency.
Other facilities include an American Express Credit Card Concession Counter, where passengers can buy phone cards for their use abroad or pay their bills by credit card.
Baby changing facilities are provided in the Baby Care Rooms, which are dotted around the four terminals. In Terminal 1 there are two such facilities on Level 2 in the Departure Transit Lounge West and in the Arrival Hall West on Level 1. At Terminal 2 such baby facilities are located at Departure Transit Lounge North on Level 2 and at Terminal 3 in a large number of locations in both arrivals and departures.
Things to do in Changi, Singapore
There are a number of activities to suit all ages and interests in the region - see a selection of tourist activities in Changi, Singapore.
Services at Singapore Airport
Useful Information about Singapore Airport